Soeben erschienen ist Subtitle's "Terrain To Roam" Album mit Produktionen von Madlib, Dntel, Nobody, Daedelus, Daddy Kev, Paris Zax, Thavius Beck, Small Is Beautiful, Omid, dDamage, Crunc Tesla and more.

1. H.H. Jesus
2. Seventies Western Crime Scene Pt. 1
3. "S" is for Summer
4. Pill Pop
5. True Grit and More
6. Restructure/Reroute
7. "Let's Get Lit"
8. A Surrealist Life
9. Shields Up
10. Seventies Western Crime Scene Pt. 2
11. Write Is Wrong
12. Wait For It
13. Dance Invite #1
14. About the Author
15. H.H. Lucifer
16. I Wonder If…
In "A surrealist life" könnt ihr da reinhören: www.myspace.com/subtitle
>>Last year, Californian rapper Subtitle released one of the best albums of the year in the form of Young Dangerous Heart. Now he's back with the follow-up LP and we can reveal the details here today.
Subtitle's new long-player is the 14 track Terrain To Roam, on which he's produced by a "who's who" of desirable hip hop names like Madlib, Daedelus and Nobody.
Other production comes via Dntel, Thavius Beck, Omid, Small Is Beautiful, Daddy Kev and more. Expect Terrain To Roam to hit stores on October 10th and it's already shaping up to be one of the mightiest hip hop albums of the year.<<
http://angryape.com/news/2006/09/subtitle-returns-with-terrain-to-roam-album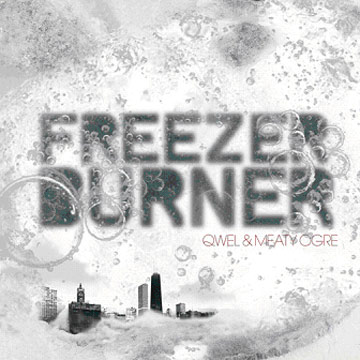 Ende des Monats fällt Qwel's und Meaty Ogre's "Freezerburner" Album auf die Straßen.
1. Wintro/Who's The Boogieman?
2. Id Glue
3. I Forgive 'Em
4. Read Writer
5. Saved
6. Fallen Rome
7. The Cyclops
8. Winterlude
9. Machinegun Monkey
10. Cabin Fever
11. Don Quixote
12. High Tithe
13. The Fourth Reich Of The Rich
14. Elijah The Prophet
15. Practice For Hope
16. Asceticism
>>Ever since Qwel and Meaty Ogre first collaborated on 2000's "The Manhattan Project" on the Typical Cats LP, heads have taken serious notice. The "Freezerburner" project has been in the minds of these two artists since they first worked together, and now it will finally see the light of day. Those familiar with the project know that it is well worth the wait.
This album marks the 2nd installment in Qwel's "Four Seasons" series, the first of which was the highly acclaimed "The Harvest" with producer Maker (Glue). This, the winter war horse LP, is slightly darker than The Harvest, just as winter is darker than the fall. Qwel and Meaty Ogre have captured the feeling of winter, the feeling of being isolated and trapped with only your thoughts with the "Freezerburner". Qwel continues to break down controversial issues on tracks like "Saved" and "Machinegun Monkey", and brings back some of the crushing braggadocio style that helped make his name known on tracks like "Id Glue" and "Who's the Boogieman?"
Meaty Ogre has garnered critical success from his LP "Leo vs. Pisces" (Galapagos4, 2003) as well as his productions on releases by Typical Cats, Robust, Offwhyte, Mestizo, Sage Francis & more. He is also a well-known Chicago record collector and has produced several sought-after instrumental 7inch releases on labels like Memphix & Heardrums. With Qwel's master wordsmith skills and delivery he shows us with the "Freezerburner" that his abilities are only expanding. Meaty Ogre strings together beats that fit the album's theme while keeping them banging. This album has a range, balance, and coherency between darkness and hope that only Qwel and Meaty Ogre could deliver.<<
www.accesshiphop.com/store/?itemid=12162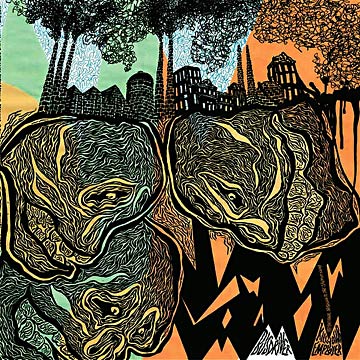 Das ist das Cover der gerade erschienenen ersten Single, "Kill Your Employer", des kommenden Busdriver Albums "RoadKillOvercoat". Dauert noch ein bisschen.
Hier noch der Link zu einem Livesmitschnitt des Corn Gangg (Busdriver, Subtitle, Unicorns) Songs "Hurry Up Run": http://www.alphapupdigital.com/hurryuprun.mp3